Olympic microplates, otherwise known as fractional plates in 0.25 and 0.5 kilos are a convenient little tool to have at your disposal, some exercises don't lend themselves well to 2.5-kilo jumps and ideally require micro loading.
You can also set up percentage-based routines (like 5/3/1 for example) a lot more accurately with microplates, no longer have you got to round up or down to the nearest 2.5 kilos. Accurate programming ensures a higher success rate on any program.
Click Here For Olympic Micro Plates Prices & Availability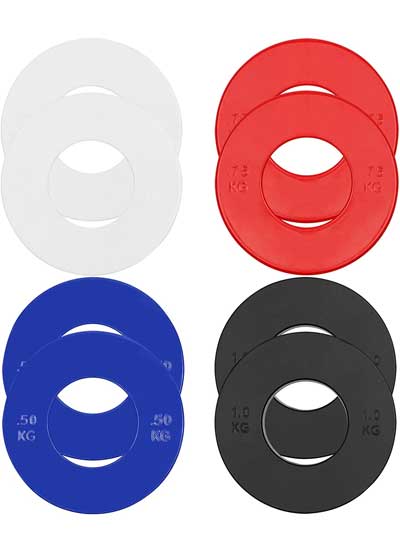 Unfortunately, a lot of gyms don't have microplates, but nothing is stopping you taking your own into the gym with you.
Microplates start from £9.99 a pair I got myself four 0.25's and four 0.5s from a reputable eBay store. These were the cheapest I could find on the net, the plates are well made and have a durable powder-coated finish.
The microplates featured are available in sizes
0.25 kg x2
0.5 kg x2
0.75 kg x2
1 kg x2
Full Set 5 kg
All home gyms with a barbell will be served well with a full set. Weight increases with dumbell exercises are generally smaller so if you want to micro load with dumbells you can buy 2 sets.
Another alternative to fractional plates is the Plate Mate these plates are microplates but are also magnetic so can be attached to fixed gym dumbells and machine weight stacks.